When analysts envision the interior of future grocery stores, they tend to speak of bustling perimeters brimming with cafés, juice bars and sushi counters. Center-store packaged goods will yield to "experiential retail" as today's supermarkets morph into tomorrow's specialty stores.
It all sounds great—unless you want to make money.
The central challenge for grocers isn't all that complicated: It's about maximizing sales of the items that make the most money while providing enough variety and value to keep people coming back. A to-go plate of lemon-garlic chicken with a side of tabouli might seem to fit that bill, but once you factor in costs related to labor, waste, appliances, utilities and more, grocerants start to look more like loss leaders than high-margin profit centers.
What types of SKUs do support grocers' EBITDA? Shelf-stable items that take minimal human handling. A box of Cheerios, not a tray of California rolls. The challenge will be to figure out how to increase the selection of fresh and prepared items that draws customers into the store without increasing this potentially money-losing inventory.
The problem is that both the more profitable areas of the store, which house the SKUs with the least amount of associated labor, and the perimeter are seeing flatter growth of late: According to IRi/Food Marketing Institute's 2018 Top Trends in Fresh Foods, annual sales growth on the perimeter dropped from 5.4 percent in 2015 to just 0.7 percent in 2018. "Perimeter is no longer the slam dunk store sales growth engine of years ago," concludes the IRi/FMI report.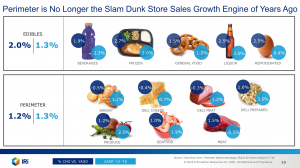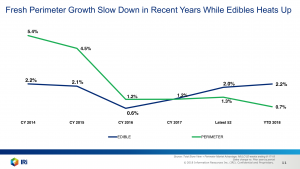 Some grocers might be tempted to spare no expense in ramping up the productivity of the store perimeter because specialty stores, discounters, c-stores, and warehouse clubs—not to mention e-commerce rivals—are capturing a greater share of wallet. McKinsey & Co. puts it this way:
Monumental forces are disrupting the industry. If grocers don't act, they'll be letting $200 billion to $700 billion in revenues shift to discount, online, and non-grocery channels and putting at risk more than $1 trillion in earnings before interest and taxes. When the dust clears, half of traditional grocery retailers may not be around.
Clearly, supermarket operators have to change the game. It's why so many of them have focused heavily on ambitious remodels and replacements. As they revamp the perimeter, however, grocers need to stay mindful of margin. That means taking smart new approaches to the form and function of all parts of the store interior, including the center.
Here are some approaches that will pay dividends…
Focus on private label. Store brands are no longer about knocking off the national CPGs. Shoppers are responding favorably to the higher quality and creativity of private-label lines. Last year, Kroger's portfolio of store brands grew at a record pace, and the company introduced 1,022 new private-label items in 2018 alone. Simple Truth is now a $2.3 billion brand, available domestically and on Tmall in China. So yes, the center of the store will shrink with time. However, stronger sales of higher-margin store brands stand to help offset the change. An added bonus: Great store brands boost customer loyalty over the long term. Not that this will be easy for traditional supermarkets: Target just launched Good and Gather, and Costco's Kirkland Signature did more than $39 billion in sales in 2018. Meanwhile, chain drug stores also stand to do more with store brands.

Make it fresh. The good news about fresh and prepared foods? When executed well, these programs enrich the in-store experience, drive traffic and boost loyalty. The most successful concepts in retailing are all about quality, convenience or both. Grocerants fire on both of those cylinders. We'll see more of them, and they'll keep getting better. 
Be Transparent. Grocers will be more effective if they make sure their offerings maximize transparency, in addition to quality and convenience. More than ever before, in part because of the rise in allergies, people want to know what's in their food. Ingredient cards, like those found at Whole Foods Market, will be ubiquitous. As the climate crisis intensifies, shoppers may want to know more about how grocers' products and practices affect the natural world as well.
Engage with new channels. The new partnership between Walmart and Tasty allows you to watch a quick how-to video for, say, Chicken Picatta (my favorite Tasty recipe), and then click a link to populate your Walmart shopping app with the ingredients, including modifications for the number of diners. Grocers will use everything from apps to smart shelves to help people find what they're looking for, steer clear of what they aim to avoid, and engage with the brand in entirely new ways.
Lead with values. The common narrative is that Millennials aren't brand loyal, but I disagree. There are powerful benefits to aligning corporate values with those of the consumer. Take Walmart's recent stand on responsible gun control, a measure that the majority of the country agrees with, but still a bold and decisive move for the nation's largest grocer and employer. At a time when up to a third of food produced for human consumption ends up as waste, Kroger's Zero | Hunger Zero Waste program targets an end to hunger in their communities and eliminated waste company-wide by 2025. Europe has already made powerful moves in food waste reduction, where S-market in Finland has a nightly Happy Hour with sales of near-expired food.
Partner with brands. Macy's recently acquired STORY, which operated a retail store built on a brand-sponsored layout that changed every six weeks. In the grocery sector, we'll begin to see a more formalized sponsorship of CPG and other brands looking to partner with in-store experiences. It's not enough for P&G or Unilever to buy an endcap; they'll build brand connection through engagement and education by sponsoring whole cooking stations focused on their offerings. These demonstrations may start in the obvious categories like food prep but will quickly spread to health, wellness and beauty categories as those higher-margin areas expand in-store.
Grocers have spent years maximizing their real estate and getting close to the customer. They're not looking to open hundreds or thousands of shiny, futuristic prototypes anytime soon. The task at hand is to fine-tune their existing locations.
Cashiers and traditional retail clerks will vanish within 10 years as chains find success with self-checkout and cashierless technologies (a powerful and private option for lower-income guests to stay on budget by scanning just what they can afford). We'll see more robots patrolling those center aisles packed with well-designed store brands, and growth of click-and-collect and online delivery will lead to more square footage set aside for fulfillment. With in-store labor up to 20x the cost of rent, a reduction in labor burden will have a powerful impact on store profitability.
What will the remaining store associates be doing with all the extra time on their hands not looking for out-of-stocks or checking out customers? They'll be highly trained in customer engagement and clienteling, educating customers on meeting their dietary and lifestyle needs through in-store purchases, subscriptions, and cross-selling. With the mundane covered, associates will be freed up to focus more directly, and more profitably, on the customer.
But, that's when customers are in the store. How about when they want to stay home?
In our final post, we'll examine online fulfillment in more detail. Can the behemoths of the industry turn their gigantic ships quickly enough to adapt to rapid change? Can their insular cultures embrace nimbler approaches to test-and-learn? How will fulfillment affect individual stores as well as whole networks? Will the micro- or large-scale fulfillment model win out in the drive for omnichannel dominance?