September 7, 2023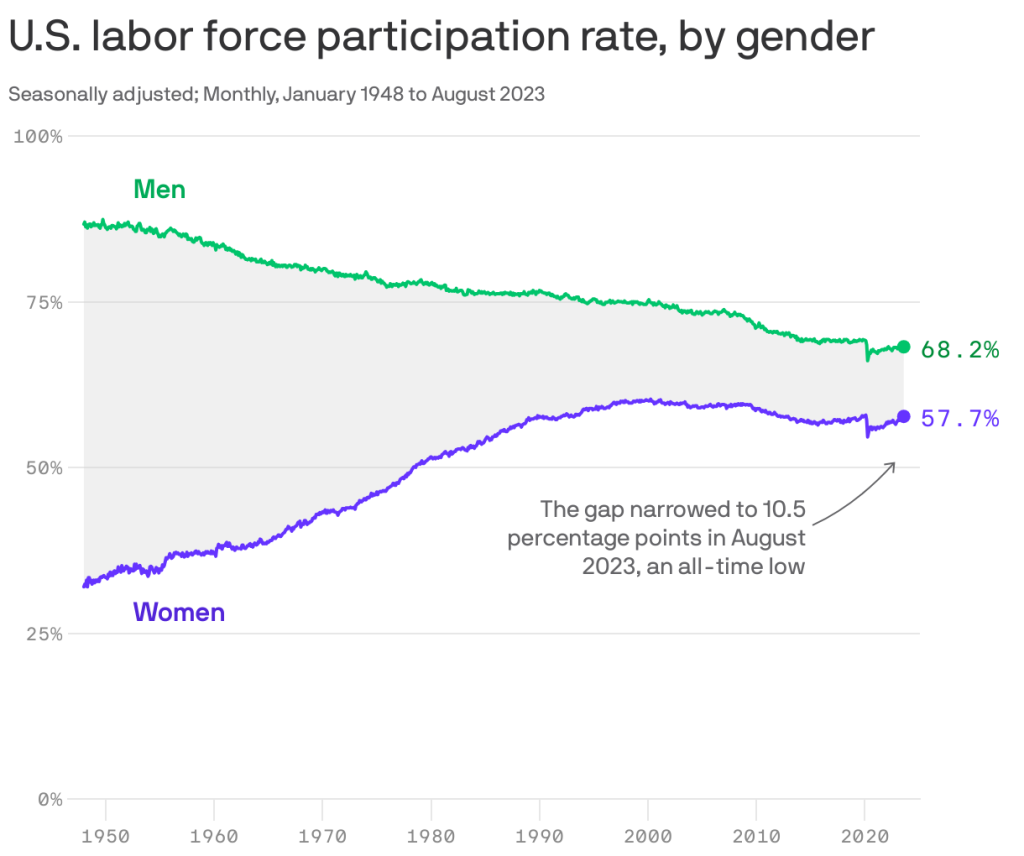 Data: FRED, BLS; Chart: Simran Parwani/Axios
America faces significant headwinds for labor, including demographics (Boomer retirements), immigration, and both Covid and non-Covid excess deaths over the last several years. But a curious thing happened this summer while actors and writers were on strike…the U.S. labor force participation rate by gender narrowed to its smallest gap in history. How did we get here and why should you care?
This isn't just a story about women. 
A survey from the Bipartisan Policy Center shows that 72% of prime age adults who are not in the workforce say that personal health or family caregiving are the primary reasons that they are not working. Further, paid family and medical leave are ranked nearly equal to compensation when comparing potential employer benefits. 
But it's a lot about women…. 
Women have returned to work after the pandemic faster than men and the gender pay gap is the smallest it has ever been. The rise of remote and flexible work has helped to fuel this increase, allowing a record number of mothers with young children to enter or remain in the workforce.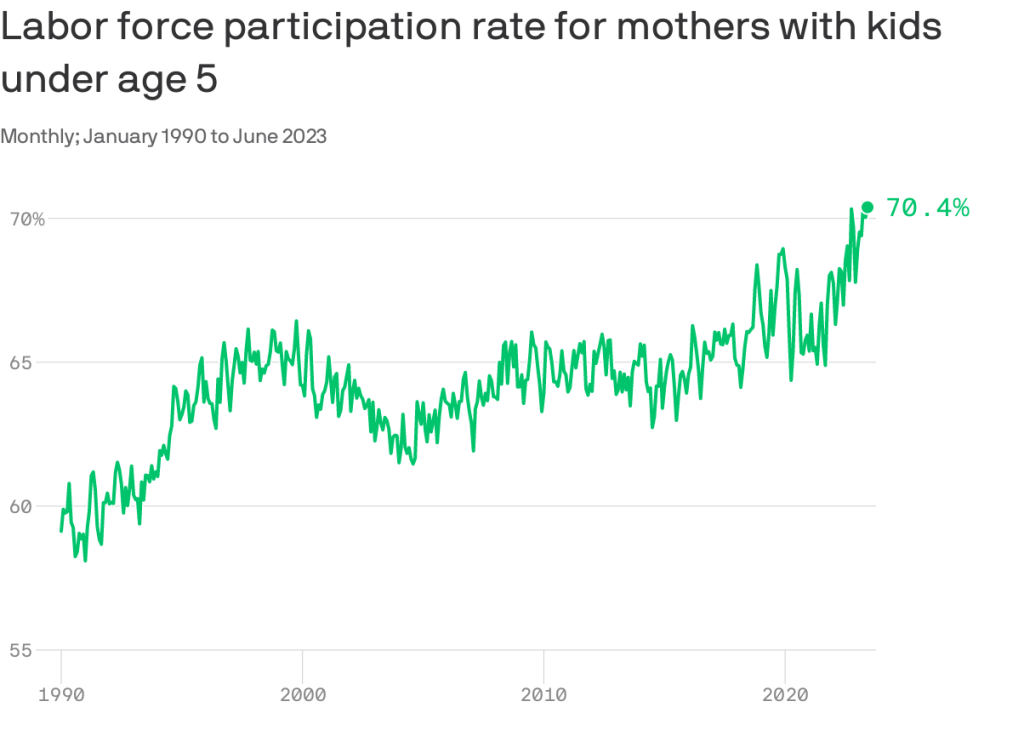 Data: Lauren Bauer, the Hamilton Project at Brookings; Note: Includes all mothers whose youngest child is under 5. Chart: Axios Visuals
A new report by the Hamilton Project at the Brookings Institution details the increased participation of mothers of young children in the workforce and the potential lifetime benefits of higher earning and career opportunities. These benefits accrue at the micro level to parents and children, but also at the macro level, growing large-scale economic activity and opportunity. 
In June, 70.4% of women with children under five were in the workforce—compared to a pre-pandemic peak of 68.4%. Notably, workforce participation by women with elementary school-aged children and teens has not rebounded to pre-pandemic levels.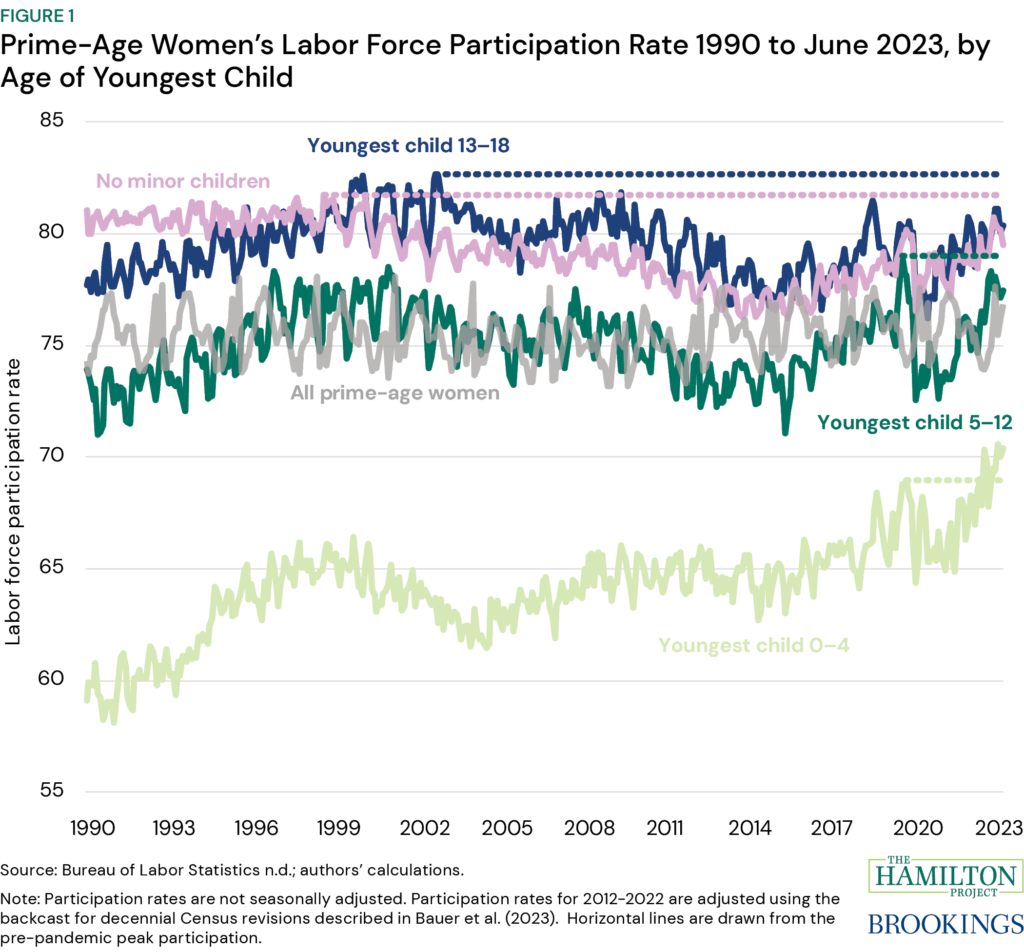 One of the factors contributing to the increase in participation is the ability of flexible and remote work. As our work patterns return to some semblance of normality, and business leaders stress the importance of returning to the office, we will start to see some of these successes challenged. The Hamilton study shows women who were highly educated, and more likely to work from home, were also more likely to be in the workforce now than they were pre-pandemic. Flexibility allows mothers to maintain their careers and the lifelong benefits of income and wealth. If you have flexibility to work from home with a sick child or adjust your hours when caregiving is required, you can keep your job. The alternative is to pull back from a partner-track, go part-time, or take a career off-ramp.
How much is flexibility here to stay?
Much has been written lately about return-to-office. This week will be another post-summer opportunity for leaders to rally their colleagues to be together once again. Complicating the in-office push is the loss this month of pandemic-era childcare subsidies, also known as the childcare cliff.
In September, federal funding for childcare providers will end. The $24 billion disbursed by the government over the Covid-era is the largest investment in childcare in U.S. history; and it's working. A report by the Century Foundation indicates that daycare centers and home-based providers will raise tuition, cut wages, lose staff, serve fewer children, and cut staff benefits. In total, this disruption could impact 3 million children, nearly a third of all children in childcare. 
What will this mean for labor? Some parents and caregivers will be pushed out of the workforce and back home, likely reducing recent gains in labor participation.
Flexibility helps recruit and retain workers, but workplace culture and training are best in the office. That's why there's an outcry from leaders to get back to the office (even Zoom is making people go back to the office). 
The next frontier will be how to balance these needs–and they are NEEDs. 
America needs workers, we need to better utilize the workers we have, and we need to recruit and retain workers from outside our country to combat our demographic challenges. The tight labor market today will quickly become a long-term shortage without thoughtfully addressing these challenges; with widespread family leave and childcare at the top of the list. 
The U.S. government made a $24 billion investment in increasing workforce participation in the form of childcare subsidies–and it is paying massive dividends. Now we will see the repercussions, both qualitative and quantitative, of turning off the spigot.