Playing defense has always been part of co-tenancy strategies. The goal was to avoid sitting next to potential competitors, even in ancillary categories.
But over the next several years, grocers will respond to channel-blurring by sharpening their focus on the most important priority of all—their core business.
How that looks will vary from chain to chain. But generally speaking, grocers will be more open to co-locating with operators formally seen as competitors (either for customers or parking spaces). The tradeoff? The higher traffic and sales that can come from anchoring a synergistic tenant mix. As an added bonus, we won't need to guess about the sales lift or impact, because we'll be able to measure the impact through new data sources.
Specifically, anchor tenants will drop their resistance to co-locating with…
fitness operators;
specialty pet retailers;
pharmacies; and even
dollar stores.
It's a strategic adjustment to retail proliferation and specialization. Imagine a shopper who spends $65.99 for a bag of Acana Heritage Paleo Dry Dog Food (containing, yes, deboned wild boar) at Woof Gang Bakery. There's a good chance that, after her trip to the upscale specialty store, that shopper may stroll over to Harris Teeter and pick up some premium-tier items for herself as well—maybe a bag of Simple Truth Organic Frozen Mango Chunks for her morning kale smoothies.
This doesn't necessarily mean the pet aisle at the adjacent grocer will be full of tumbleweeds. The stats in pets are eye-popping: Total U.S. sales of pet food and accessories hit $72 billion in 2018, or slightly more than the GDP of Myanmar. It's a big universe. A grocer could scale back its pet aisle and collocate with Woof Gang or PetSmart without losing the owners of non-paleo pets.
Going Granular—on Co-tenants and More
The key is to rely on data rather than hunches. When MasterCard says a shopper visited a "health, wellness or fitness" business before walking into your store, it's not enough. Did that person go to OrangeTheory Fitness? FLOSS Dental? CVS Health? Moving forward, grocers will demand more granularity.
And they'll have it. While the conventional wisdom holds that Amazon will always be ahead on analytics, supermarkets boast some underappreciated options. To be sure, as Bain & Co. notes in a recent report, Amazon is massively outspending even the biggest retailers on IT. Over the next five years, the firm reports, each of the top 10 retailers will, on average, spend about $100 billion less on tech than Amazon given current spending rates. In addition to tech spending, the largest retailers aren't even on the list of top R&D spenders in 2018.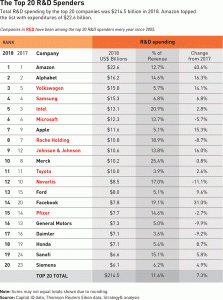 Notice, though, that Alphabet (Google) is in the running here. So, too, is Microsoft.
For the top grocery chains, partnering with Amazon's toughest competitors is a force multiplier. Richly informed by their own loyalty programs as well as the all-seeing eyes of AI-powered partners like Google and Microsoft, grocers will monetize their growing capabilities by selling them back to brands (see Kroger Precision Marketing and 84.51° Stratum).
And indeed, promising partnerships between Silicon Valley and the grocery sector have already started to form. Consider that…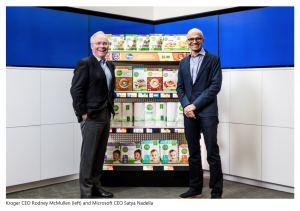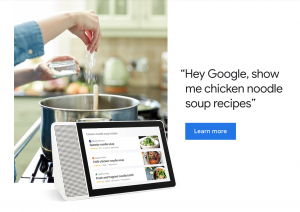 But that's not all—for those retailers that have managed to develop internal technologies, there are significant opportunities for creating new revenue streams by licensing those technologies more broadly:
Starbucks licensed mobile order & pay through Brightloom. Brightloom, formerly an F&B concept called Eatsa, recently announced an intriguing partnership with Starbucks (Brightloom's CEO is a former chief digital officer for Starbucks). The idea is to offer restaurant brands a cloud-based digital platform that incorporates components of Starbucks' coveted mobile, loyalty and engagement technology. Currently, only 3% of the $1 trillion restaurant industry offers online ordering. The Starbucks-Brightloom partnership highlights the potential for retailers to bolster revenue by licensing technology that was previously for internal use only.
Amazon's AWS: No discussion on licensing intellectual property would be complete without mentioning Amazon Web Services. The massively profitable AWS is possibly the best example of stretching retail ideas far beyond the traditional confines of the sector.
Retailers know their customers and they've begun to monetize that knowledge to create alternative revenue streams that will deliver profit margins far in excess of the traditional grocery business. We predict that within ten years, the profits associated with these ancillary revenue streams will surpass those from the primary grocery business.
Opportunities will include ways to monetize data surrounding shoppers' favorite stores beyond the grocery category and their peak buying times and patterns as well as the purchasing habits of individuals within a given household. Grocers, in other words, will take a more data-driven approach to co-tenancy. They'll know how an adjacent tenancy affects traffic right down to the digital shelf on aisle nine.
There are also valuable ways to grow revenue outside of traditional commerce. Take Disney Institute for example, where you can pay thousands of dollars to get coached on business excellence, leadership and more. How much would executives pay to learn the secret sauce behind Publix's unwavering customer-first culture?
This biggest headwind associated with creating and growing alternative revenue streams? Grocers' historic hesitation to spend on innovation. This is understandable in an industry with razor-thin margins, but investing with a long-term focus on the evolution of the business is the only way to succeed. Keep an eye on retailers that are testing and learning with a mix of both small and big-bets. It won't be easy (as Walmart knows from going head-to-head with Amazon on e-commerce), but retailers that focus on both iteration and innovation will be successful in turning the corner to a bright future.
In the next column, we'll do a deep dive into the store interior—how the center-store and perimeter will change; the potential impact of grocerants; and the promise of in-store partnerships.