This is the second post in a series on Grocery of the Future.
Futuristic supermarkets are on the drawing board as we speak, and some will no doubt be worthy of a photo spread in Wired magazine. But as noted in the intro to this series, it's more likely the paradigm shift will happen first at the thousands of existing supermarkets that are already located right in customers' neighborhoods.
When it comes to the outside of the store, quite a few of these changes will hinge on a familiar consideration—how to maximize excess real estate.
Start in the parking lot.
While experts believe we'll see dramatically reduced demand for parking over the next decade or so, I am deeply skeptical of the extreme end of these predictions, such as claims by one auto-industry disruption expert that passenger vehicle ownership will drop 80 percent by 2030. Even Silicon Valley is starting to admit that driverless cars face vastly underestimated challenges—from dealing with the unpredictability of humans to operating safely in snow or rain.
Nonetheless, parking lots at many centers are bound to shrink. Consider that…
Younger Americans are wary of car ownership (Monitoring The Future, has seen a dramatic reduction in 12th graders who held driver's licenses, see chart below). Count on Gen Z to keep on using the likes of Uber, Lyft, Grubhub, and DoorDash as they mature. Per an analysis by Reuters, the $51.3 billion U.S. ride-sharing market will grow by more than 20 percent annually through 2025.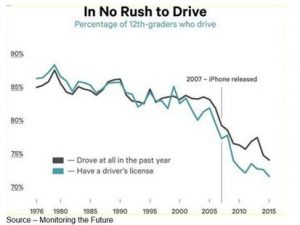 More shoppers are turning to click-and-collect and delivery. Grocery e-commerce sales tripled from 2013 to 2018, and by some estimates could quadruple by 2023. Delivery is a bit of a wildcard, to be sure, but click-and-collect clearly works. Even if click-and-collect drives more traffic to grocery pick-up lanes or other quick-turnover spaces, the overall demand for conventional parking spaces will still decline.
More outparcels will be carved out of existing parking lots, and others will become available. Simply put, younger generations don't do Applebee's or Red Lobster. In the years ahead, we'll see Chapter 11 filings by chains you could imagine outside of Starcourt Mall in "Stranger Things." This will add to the excess asphalt nationwide.
It's clear that grocers and landlords alike will be engaged in repurposing parking lots to one degree or another. Some of the best-located centers will tear up pavement and add residential and office towers. Others will focus on accommodating ride-sharing, click-and-collect and grocery and meal delivery services. Vehicular chaos, which is already bedeviling U.S. airports swarmed by Uber and Lyft, is a distinct risk.
The parking lot of a dominant grocery-anchored center could include all of the following in the years to come:
Click-and-collect fulfillment outparcels with pickup lanes on either side as well as those attached to the perimeter of existing grocers.
Separate spaces for click-and-collect shoppers who also want to go inside the store.
Larger and more ubiquitous fuel and e-vehicle charging stations.
Fast-access drop-off areas for ride-sharing services.
Cashier-less vending—both at outparcels and built into existing storefronts—open 24 hours a day (think Amazon Go or Zippin).
Drive-thru lanes for in-store pharmacies or grocerants (front-of-the-store drive-thrus, as employed by supermarket chain Ingles in the Southeast, could catch on).
To cut down on chaos, airports rely on separate entrances—for arrivals, departures, carrier-specific terminals, and domestic and international flights. Moving forward, some grocers and landlords may want to experiment with something similar: While continuing to offer universal ingress and egress to their properties, they could use way-finding cues and designated lanes to sort traffic for maximum flow and convenience. If you want to park and buy a few extras inside the store while clerks load your order into your car (call it "partial click-and-collect"), you'd know where to go. Ditto for an Uber driver dropping someone off.
The challenge for grocers is to find the best ways to stage pick up, delivery and full or partial click-and-collect that make shopping simple, fast and fun. In many cases, they'll need to team with owners, architects, and parking consultants to engineer new approaches, often integrated with shopping apps.
With respect to the re-envisioned parking lot, this is the Test & Learn phase. Future prototypes will be shaped by experiments that are already running today—at existing stores.
In the next post, we'll consider another major component outside the supermarket—the lineup of adjacent co-tenants.