We started this series with an Origin Story, a little ditty about how we got to where we are today. Sure, we threw the customer under the bus a little, but it was all in good fun. We touched on Lean manufacturing, sometimes referred to as just-in-time, which forces elimination of all things "waste" in the pursuit of profits. While it sounds very American, it's actually Japanese, developed by Toyota's operating model.
What does that have to do with commercial real estate? Everything.
Lean isn't just something that Toyota did, it's something nearly every major corporation and manufacturer employed for decades. And waste isn't just faulty products, there are seven different kinds of waste to eliminate throughout production and that all leads to an efficiency where there's no room for error.
That means only the products on hand that you need for immediate use, only the warehouse space that you need to hold those minimum products and inventory, only the number of trucks and truck drivers that you need, and on and on down the line (pun intended).
You're a company that sells products with many component parts created and assembled in locations throughout the world before being sold to the American consumer. What do you do?
When individual parts were hard to come by, you started developing duplicate manufacturing capabilities in different geographies. You leased more industrial space in different countries to limit location-based disruption.
When you were concerned about your ability to get those newly minted products from far-flung locations back to America for assembly and sale, you chartered your our own ships (Walmart, Costco, Home Depot), and looked for additional U.S.-based assembly facilities [more industrial space].
You're scared about your lack of excess inventory, in case you have further location-based or transportation-based disruption, so now you also near-shore or on-shore larger parts of your manufacturing process. For good measure, you decide to keep more inventory on hand, making just-in-time become just-in-case [you guessed it, more industrial space].
So that's the demand side of the equation in a nutshell: The need to have more supply-chain resiliency has led to nearshoring and onshoring, just-in-time has become just-in-case and all of that leads to the need for more logistics space.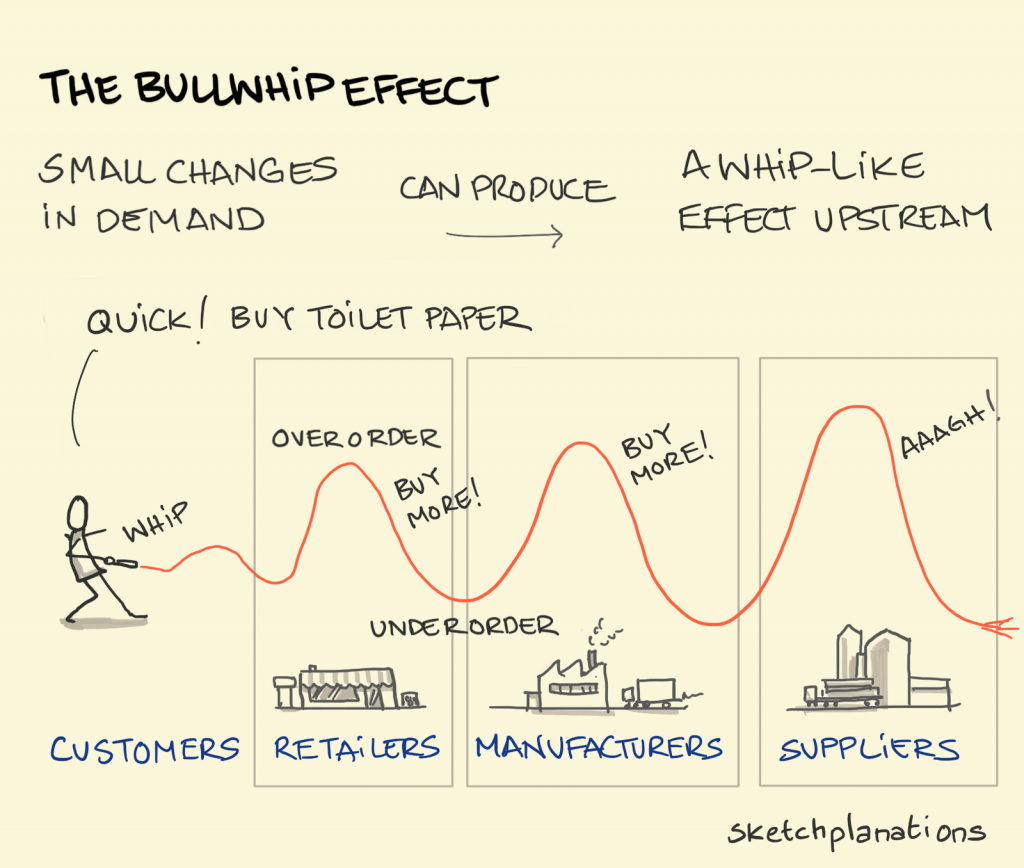 How about the supply side? Surely, we have enough space available? To all those thematic investors who bet big on industrial real estate, the answer, thankfully, is no.
The rise of ecommerce had already put a strain on the amount of industrial space in America. Amazon had been leasing and building for the better part of two decades. When 2-day shipping was good enough, you could locate your shipping hubs in a few key markets and get your goods delivered on time. Now, when minutes matter, no location is too close to customers. Amazon is on track to double its industrial space in a 2-year period which started at the beginning of the pandemic [Amazon is rumored to have pre-purchased 50% of all structural steel being shipped to the U.S. in a 12-month period].
That's if you can get a new location built. For many municipalities, they're not particularly interested in adding new industrial space within their community. For all those retail locations that are "under-demolished," don't expect them to easily become industrial sites. Even if you can get the municipalities to agree, much of the success of that facility will be based on the tenant's ability to find adequate labor to staff the site.
The age and near-obsolescence of many existing industrial spaces exacerbates the short supply. For example, 36 feet is the standard clear height for modern usage, but many older-vintage facilities fall short of these and other specifications and are therefore unable to handle the needs of today's customer. The newly passed Infrastructure Bill may further put a headwind on supply through further competition for scarce construction labor and materials.
Excess demand + constrained supply = rent growth
All of this leads up to the main event: extreme rent growth in markets throughout the U.S. and globally. You may be asking yourself, why would I buy an industrial facility at a 4% cap rate when I can buy a grocery-anchored retail center for 7% cap rate? It could come down to rent growth. Grocery retailers have locked in decades of nearly flat leases, and the small rent bumps at option are diluted by inflation.
Industrial rents on the other hand are increasing significantly, some parts of the Inland Empire are experiencing rent increases of 10% each month. And those leases don't have 70 years of flat options. In the industrial sector, market-rent resets happen at much greater frequency than in retail, leading to doubling or tripling of rents in many cases. Nine months ago, an ecommerce retailer signed an industrial lease at the highest rate that market had seen; today, that lease is 45% below market.
Additionally, larger owners may be better positioned to offer services to their customers that could make their industrial properties stickier. Many of these customers are smaller mom-and-pop businesses that hold a contract to supply or transport for a larger corporation. They may benefit from the services that a large landlord can provide, such as assistance with procurement or energy management, and that could lead to longer stays or expansion within that owner's portfolio.
This won't last forever, but it has been a significant tailwind for this industry recently. Prologis has seen strong tenant demand and pricing power plus a robust development pipeline, leading to 17% global rent growth in 2021. Duke Realty is projecting more than 10% rent growth each year for the next several years. Many of the largest industrial owners have significant land banks that are being tapped into with development margins in excess of 50%.
What about retail?
Long-term, nearly flat leases will be helpful for essential retailers that didn't have to rationalize their fleets the same way other retailers did over the pandemic. Still, many essential retailers have too much retail space and not enough logistics space. By now you know it's not as simple as converting that space from retail to industrial.
And that's where our story continues next time.