Companies tend to overestimate their ability to anticipate and respond to the changing marketplace. They think they're in a delicate dance with consumer expectations and demand when, in fact, they're out of step. The stumbling block here is familiar: people hold onto what they've done in the past. Rather than admit that something doesn't work, they double down on the status quo.
But what if your teams could step back, drop their fear of being wrong and reevaluate past decisions based, not on ego and emotion, but on evidence? Design Thinking focuses on making decisions based on what future customers want and value. To get there, you enlist the power of data, collaboration and intuition (all of which are generally selfless), even as you strive to be circumspect about instinct and attachment (generally egoistic).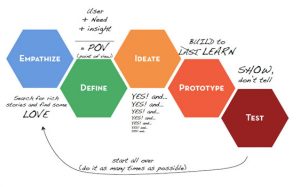 Kroger has put Design Thinking into action. Back in 2015, Kroger acquired Dunnhumby's technology platform and retained some 500 analysts, branding gurus and other talented personnel to create a new unit called 84.51°. It was a way of embracing empirical data and creative innovation in equal measure. The changes, which required a willingness to jettison past approaches, are already quite visible—from the home run that is Kroger's Simple Truth private label brand, to the shift toward highly localized stores, a strategy that runs directly counter to the way traditional supermarkets have always done business.
In D-school, we had to work this way. Now it's called a hack-a-thon or iterating, back then it was just how we were trained. I'd look at an architectural thesis as having unlimited "right" solutions. Each day would bring a new way (or ways) to consider a problem without attachment to yesterday's. It's still how I approach problem-solving.
There's no shame in going back to the drawing board.