February 28, 2023
We recently presented at the Young President's Organization Retail Property Symposium in Phoenix. Top of mind for the group was how the American Consumer is adapting to the current environment and what that means for retailers and commercial real estate owners. We'll be exploring these topics in a series of articles starting with a discussion on the labor shortage, followed by changes in goods spending, and the prospects for a soft(ish) landing—then we will look at how this all comes together for commercial real estate prospects in 2023 and beyond.
So, where are the workers?
The simple story about the labor shortage is about lazy youngsters or people that want to be paid not to work. The reality is that there are fewer people available in the workforce. The major contributors are retirement age, excess deaths, and slow rebound in female employment.
The wave of Baby Boomer retirement is real—75 million boomers will be over 65 by 2030. For many years the size of this generation, combined with boomers' willingness to work a few years longer than generations past strengthened the labor market. The Covid pandemic changed that and it will have a negative impact on the workforce for years to come.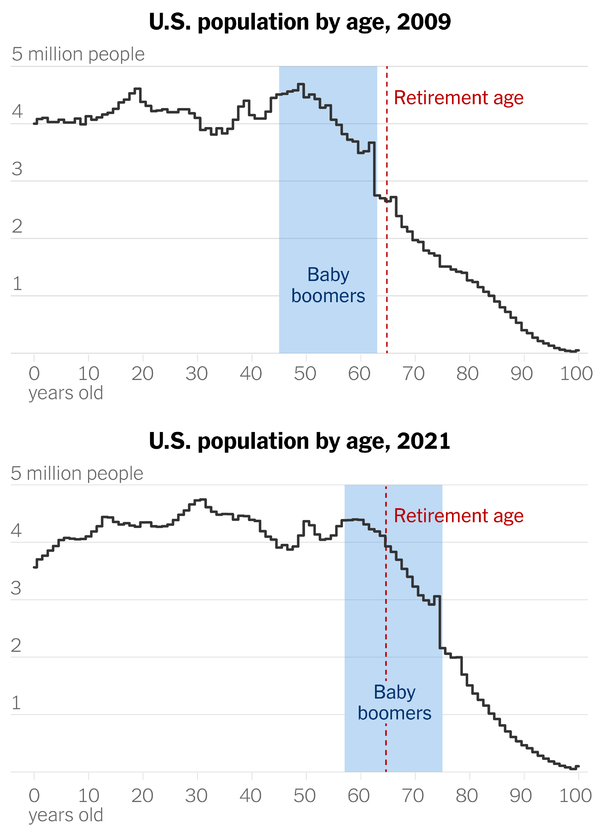 There's a common refrain that one million Americans lost their lives to Covid-19. While that number is incredibly high, it doesn't tell the full story of lives lost. To dig in further, we looked at CDC data on excess deaths the difference between observed and expected mortality (i.e., excess deaths) from 202o to 2022. In total, the United States experienced 1.25 million excess deaths during that timeframe. Several factors caused this under-discussed surge, but healthcare system-related disruptions were among the primary drivers. Some medical centers, for example, were forced to ration care as they struggled to handle the influx of Covid patients. Meanwhile, fear led thousands of Americans to sit at home rather than seek treatment for cancers, chest pains, strokes and more. The public health consequences were disastrous.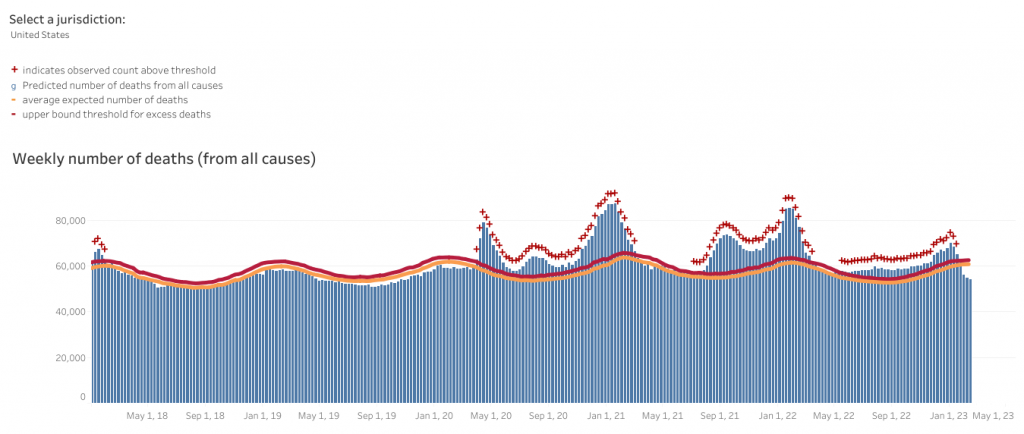 1.25 million lives lost makes for many fewer workers, but that's not the whole story, because many more Americans survived Covid but now have disabilities that inhibit work.
We have fewer people because of natural generational changes and (not so natural) excess deaths. Basic supply and demand would tell us that with the demand for more workers, we would bring in supply from elsewhere, right?
Unfortunately, that's not what happened. Immigration was already reduced pre-pandemic and those numbers fell off a cliff in 2020 and 2021. We recently experienced a significant rebound in 2022 but not nearly enough to make up the prior loss.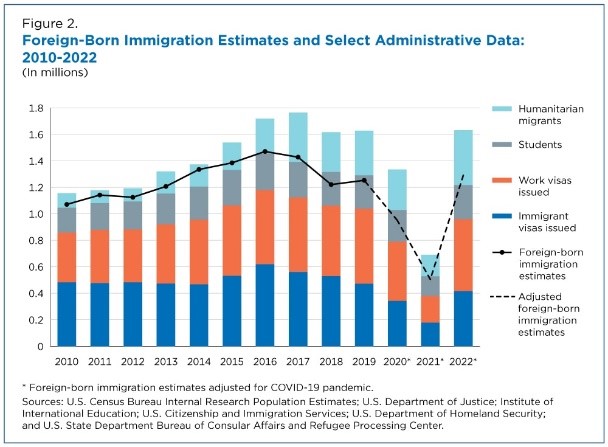 Finally, women were slow to return to the workforce in large part because of the lack of childcare options over the pandemic and in the months since reopening.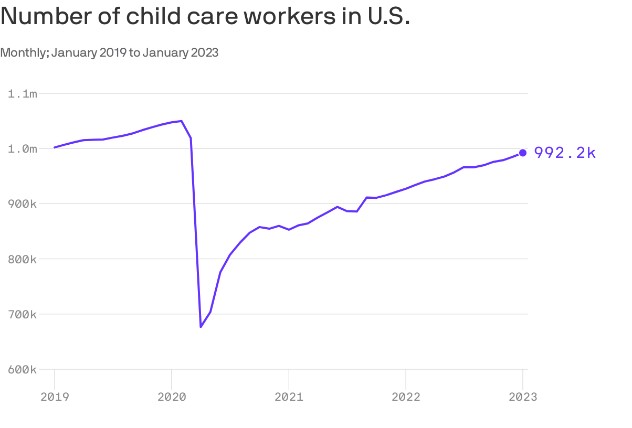 Source: Bureau of Labor Statistics, Chart: Axios Visuals
There are still fewer child care workers than there were before the pandemic, and the downstream impacts are severe. Women's workforce participation didn't reach pre-pandemic levels of 74.8% until August 2022. If we consider the trendline, that's nearly 1.5% below where we anticipate workforce participation would have been without the pandemic.
Why it matters and what can we do about it
Parents, particularly women, can't go to work if they can't find childcare. They may have been able to work remotely without childcare, but they certainly can't return to the office as many employers are starting to demand. This impacts every industry, including semiconductor chip manufacturing.
Chip makers are looking to the U.S. government for billions in new funding. In an acknowledgment of the clear link between the economy and employment, the $280 billion CHIPS bill passed last year requires would-be manufacturer recipients of the $39 billion to come to the table with a plan for providing child care to their workers. Speaking with Axios, Caitlin Legacki, a senior adviser in the department, says, "We're not doing this for the sake of putting points on the board for child care policy, but we are acknowledging that when you look at the labor market right now, one of the largest factors keeping people out of the labor market is caregiving responsibilities."
These structural labor shortages are the first pillar in today's challenging economy. In the pandemic era of increased goods spending and lowered services spending, we had been able to stave off much of the challenge, but we can no longer ignore these factors today.
Our next post will explore the impact of increased goods spending, how that is (or isn't) moderating today, and when we expect the consumer to finally pull back and let the Fed's aggressive rate increases do their job.